Why choose us?
We have been here for you since 2000
Since 2000, we have helped solve problems with starting your own family. This is made possible thanks to the comprehensive care provided by our professional team of IVF specialists.
More than 7000 children have been born with our help
More than 7000 children have been born to our clients thanks to assisted reproduction. We meet our "children" every year to celebrate International Children's Day.
We are a clinic with our own
hotel facilities
It is not easy to combine your responsibilities with treatment. Therefore, our Clinic offers its own hotel facilities. The two interconnected buildings of the Clinic and Hotel Tomášov **** provide everything under one roof.
Maximum effort
to a successful objective
We understand that each case is different and requires an individual approach. Therefore, we pride ourselves on a precise diagnosis and assure you that we will do our utmost for the success of your treatment.
History of the clinic
Since 2000 we have been helping to start families and solve infertility problems.
The Clinic has undergone major developments since its foundation. The team, which initially consisted of ten employees, has increased threefold. The headquarters of the Clinic are located in the Tomášov building, which is an integral part of Baťa's history. The building has undergone extensive, but careful reconstruction. Our laboratories are located in the building, and provide the day-to-day analysis of collected samples, which significantly reduces time required for processing and reporting of the results. There is also a pharmacy, as well as hotel facilities with a restaurant and wellness center.
Our team
We have put together a team of top experts with years of experience in assisted reproduction. The professional representative of the clinic is MUDr. David Rumpík, Ph.D., who began his professional career under the leadership of Prof. MUDr. Ladislav Pilka, CSc. Professor Pilka was responsible for the birth of the first child through assisted reproduction in the Czech Republic. He was head of the clinic of assisted reproduction in Zlín for many years and was there together with IVF specialists MUDr. David Rumpík, Ph.D. and MUDr. Taťána Rumpíková, Ph.D. from its inception.
Get to know the environment of our Clinic
We not only take a professional approach, but also ensure you feel at home. At our Clinic, not only can you make use of the high-quality medical services but also the accommodation in a four-star hotel, restaurant services, a pharmacy and last but not least the hotel park, which is an ideal place for undisturbed rest and relaxation.
Success of the treatment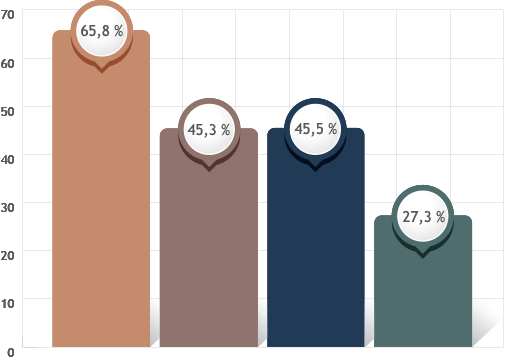 IVF with donated egg
KET
IVF below 38 years of age
IVF above 38 years of age
Graph of the IVF success rate
The highest success rate of treatment is achieved in IVF cycles with donated oocytes. Over 65% of patients (demonstrated by cardiac action) become pregnant usually after transferring five-day-old embryos. In IVF treatment cycles of patients below 38 years of age with their own oocytes and in cryo-embryo transfer in all patients with no age differentiation, the success rate of treatment is slightly below 50% (again demonstrated by cardiac action). In IVF cycles of patients over 38 years with their own oocytes, the treatment success rate is almost 30%. The results show that one of the decisive factors for successful treatment is the patient's age.
RNDr. Kateřina Tvrdoňová, Ph.D. - Head of Embryology
Certificates and documents