We are unable to conceive
Despite our long-term efforts, unfortunately are we unable to conceive. What are our options?
Other care provided
As one of the first IVF centers in Czech Republic our Clinic introduced in to the clinical practice the oocyte verification method (fast freezing of eggs).
Our services
Stories
More than 7,000 children have been born to our clients thanks to assisted reproduction.
Since 2000, a large number of couples have reached out to our Clinic. Each of them has their own deep human story, each starting at a different point and showing an effort to resolve a different situation. Some of these couples have shared their stories with us, and we are happy to present them to you now. We believe that they will be inspiring and filled with optimism.



Success of the treatment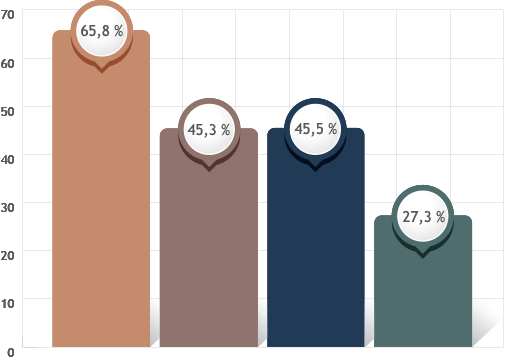 IVF with donated egg
KET
IVF below 38 years of age
IVF above 38 years of age
Graph of the IVF success rate
The highest success rate of treatment is achieved in IVF cycles with donated oocytes. Over 65% of patients (demonstrated by cardiac action) become pregnant usually after transferring five-day-old embryos. In IVF treatment cycles of patients below 38 years of age with their own oocytes and in cryo-embryo transfer in all patients with no age differentiation, the success rate of treatment is slightly below 50% (again demonstrated by cardiac action). In IVF cycles of patients over 38 years with their own oocytes, the treatment success rate is almost 30%. The results show that one of the decisive factors for successful treatment is the patient's age.
RNDr. Kateřina Tvrdoňová, Ph.D. - Head of Embryology