20. 6. 2022
Ervinke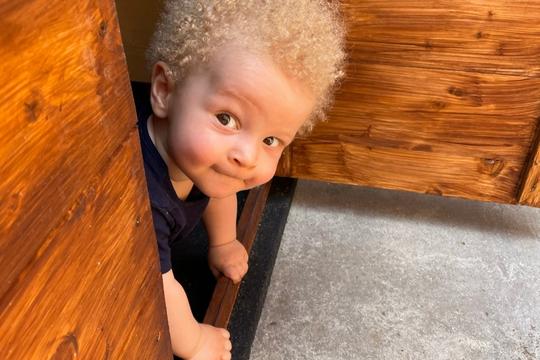 Dear Csilla and colleagues at the Zlín Clinic, I would like to introduce myself, even though we have met already.
I was just very small back then, not quite visible yet. I am Ervinke Havasi and guess what, I became 1 on the 20th May 2022.
Mum and Dad adore me. They feel grateful every day to you and the Lord that I exist. Mum tells me around 50 times a day how much she loves me and showers me with kisses. They keep telling me that I am the most perfect child in the entire world for them. They say I am a very smart, beautiful, kind and lively baby. It is true that I am a nosy one, I want to be everywhere, every time, climb everything or crawl in everything, I love packing and I work on things every day. I don't understand why Mum returns everything to the wardrobe, kitchen cupboards and drawers, once I've finally taken them out. I just need to start over.
Oh, and I charm everyone with my blonde, curly hair! They love me. People stop my parents on the street to tell how much I resemble a beautiful angel.
Thank you for reading my message. Let me share some pictures of me and my family.
---