QR code - Contacts for your
mobile phone
EmbryoGlue
How to increase the chance of embryo implantation?
Clinic of Reproductive Medicine and Gynaecology Zlín offers modern methods for increasing chances for succesfull treatment.
EmbryoGlue® is a special cultivation medium used for transferring embryos to the uterus. This medium contains all the necessary nutrients and energy sources which are needed for optimal embryo development. It also contains a higher concentration of hyaluronan, which is naturally present in follicular, oviductal and uterine fluids where it increases the viscosity of those fl uids. 

Clinically proven results of  the use of the cultivation medium EmbryoGlue containing hyaluronan (source:Vitrolife)
Therefore, using EmbryoGlue® will increase the likelihood of pregnancy compared to using mediums without hyaluronan. It is possible to use EmbryoGlue® in all stages of embryo development. It can be used for fresh embryo transfers as well as for frozen embryo transfers. EmbryoGlue® is an extra procedure and the Embryology team need to prepare this medium in advance of its use. Please inform us should you wish to use it at any stage during your preparation for treatment.

The process of embryotransfer with the use of the cultivation medium EmbryoGlue (source: Vitrolife)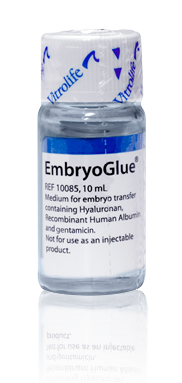 _____ 
Request for application of this procedure has to be announce prior the start of the cycle.
The price of the procedure is 120 EUR.